Taos Lodging: Bed and Breakfasts, B&B's, Hotels, and Vacation Rentals
Over the years, we have worked with our favorite Taos area Bed and Breakfasts, hotels, and vacation rentals, to provide you with world-class lodging and accommodations, both prior to and after your Llama Trek or Snowshoe Adventure with us, in New Mexico's pristine wilderness. Taos is blessed with many charming Southwesten B&B's, hotels, and vacation rentals. From romantic elegance, to country charm, we've featured some of our favorite Taos area Bed and Breakfasts, hotels, and vacation rentals, to help you plan your Taos Vacation.
If you prefer, we can arrange for your accommodations and your Outdoor Activities, as part of a total package, with your single or multi-day Llama Trek or Snowshoe Adventure in the pristine beauty and solitude of New Mexico's Sangre de Cristo Mountains. Just ask about our Taos Adventure Vacation Packages.
Below are listings and links to our favorite Bed and Breakfasts, Hotels, Spas and Eco-Resorts, and Vacation Rentals, in the Taos area.

Taos New Mexico B&Bs
Adobe & Pines Inn Bed and Breakfast
1830s adobe hacienda preserved/transformed into one of most charming/luxurious B&B hide-aways in Southwest says Frommer's & Fodors. Fireplaces, Jacuzzi tubs, spa services, CD players, full breakfasts, fine art, gardens, views. 9 rooms. 1-800-723-8267

Adobe & Stars Bed and Breakfast
New SW Inn, Panoramic mountain views on Ski Valley Rd. Ski, hike, bike raft and golf nearby. Kiva fireplaces, Private. baths, Jacuzzis and full breakfast. Mobil*** 1-800-211-7076

American Artists Gallery House B&B
Enjoy a ROMANTIC stay in a double-tub Jacuzzi suite, stargazing from the hot tub, stunning vistas fireplaces & a savory gourmet breakfast. 1-800-532-2061

The Austing Haus Bed and Breakfast
Located in world renowned Taos Ski Valley, the Austing Haus is the tallest standing timber-frame structure in the US. Smoke-free environment and a pet-friendly destination. Quaint alpine mountain setting with Old World charm. Elegantly appointed rooms with wood-burning fireplaces and forest views. 800-748-2932

Casa Benavides Bed and Breakfast
Southwestern elegance and convenience. 1 block to Plaza. 6 indivual homes (5 tradional adobe, 1 Western Victorian), on 5 downtown acres. Hot tubs, AC, fireplaces, Cable TV, private baths, patios, gardens. "Killer" breakfasts in the pink and puple dining room. 1-800-552-1772

Palacio de Marquesa
Palacio de Marquesa is a premier boutique hotel in Taos, New Mexico. Our luxurious Taos hotel tells a unique story about New Mexico's culture and history. Conveniently located near Taos Plaza.
1-855-846-8267

Casa Gallina - An Artisan Inn
Located on the edge of town in a quiet, pastoral setting. Each of Casa Gallina's three adobe guest houses is decorated and appointed with furniture, art, antiques, and textiles from New Mexico, Old Mexico and the world over. Desktop computers w/ high speed internet. Fully equipped kitchens. 575.758.2306

Columbine Inn & Conference Center
Beautiful, timber-frame lodge nestled in the mountains of Taos Ski Valley. Open year round and convenient to skiing, hiking, Llama trekking, snowshoeing, horseback riding, biking, and the charm of Taos. Locally owned and operated by avid skiers and outdoor enthusiasts. Check our website for up-to-date and last minute specials! Friendly, Fun, & Convenient. 1-888-884-5723

Cottonwood Inn B&B
The perfect combination of Taos country comfort and casual elegance. Impressive views of Taos Mountain and the spectacular New Mexico sunsets. Spacious common room and dining area to savor your morning breakfast and extensive gardens with a hot tub under the stars. 800-324-7120

Dreamcatcher B&B
Taos Bed and Breakfast Inn nestled in a serene, wooded area just a 10 minute walk from Historic Taos Plaza.
1-888-758-0613

Hacienda del Sol Bed and Breakfast
Historic adobe in the shadow of Taos Mountain and century-old trees. Enjoy gourmet breakfasts and personalized service. "One of America's Ten Most Romantic Inns"- USA Today. 1-866-333-4459

Inn on La Loma Plaza Bed and Breakfast

Two blocks from Taos Plaza • National Register of Historic Places Mountain views and expansive gardens • Full gourmet breakfast
Rooms with private baths fireplaces, phones, TV's & VCR's
Spa, pool, tennis and health club privileges • Walled estate in quiet park setting • Air conditioning, kitchenettes and patios • Guest computer • Grand outdoor hot tub • 1-800-530-3060

La Doña Luz Inn, An Historic Bed and Breakfast

Delight in the ambiance of this quaint and colorful adobe inn. Rooms are richly decorated in the Taos tradition. Experience "The Essence of Old Taos". Conveniently located in the heart of the historic district. Closest B&B to the old plaza. Private rooftop hot tub, fireplaces, cable TV, VCRs and stereos. Recommended by The N.Y. Times, and featured on The Travel Channel's, "Romantic Inns of America". 1 (888) 758-9060

La Posada de Taos Bed and Breakfast

The first Bed and Breakfast in Taos, La Posada is a provincial, century-old adobe inn located just 2 1/2 blocks from the plaza. La Posada perfectly captures the charm and enchantment of the Southwest; and will provide you with elegant, comfortable accommodations for your stay in Taos. 800-645-4803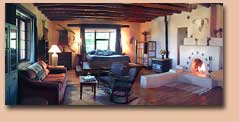 Old Taos Guest House Bed and Breakfast
Nestled amid a grove of stately trees on 7 peaceful acres, this historical adobe estate is only 5 min. from Taos Plaza. Great views, outdoor hot tub, beautiful gardens, king size beds, and fireplaces. Healthy breakfasts. FAMILIES WELCOME!
1-800-758-5448

San Geronimo Lodge

17 rooms in quiet setting. Great for weddings, family reunions and small meetings. Fireplaces, outdoor hot tub, Chile shaped heated pool. Hearty breakfast. 1-800-894-4119

Taos Association of Bed and Breakfast Inns
There is something for everyone at a Taos Bed and Breakfast. With accommodations ranging from charming rustic to luxurious lodging, you'll be sure to find the amenities you are looking for.

Taos Country Inn Bed and Breakfast
Historic Taos bed and breakfast hacienda nestled among beautiful gardens and towering trees on 22 acres in Taos, New Mexico. Beautiful patios, amazing sunsets, incredible views.Taos native Yolanda Deveaux is happy to share her knowledge of Taos and its history to make your stay an unforgettable experience. 800-866-6548

Taos New Mexico Hotels and Motels
The Historic Taos Inn
Southwestern charm and history in this quintessential New Mexico inn located in the heart of Taos' historic district. Acclaimed by National Geographic Traveler as "One of America's Great Inns" and listed on the National and New Mexico Registers of Historic Places. 44 unique rooms and suites, most with seasonal pueblo-style fireplaces. Award-winning Doc Martin's Restaurant and The Adobe Bar.
1-888-518-8267

Indian Hills Inn
The Indian Hills Inn began serving Taos' lodging and motel needs in the early 1900's. Just 2 blocks South of historic Taos Plaza, the Inn has a traditional Southwestern pueblo design. Short walk to the historic district. 1-800-444-2346

Sun God Lodge
One of the original Taos style Boutique Hotels, the Sun God Lodge is built around a large grass courtyard lined with beautiful, old trees. With 56 units including singles, queens, kings, and suites, this cozy lodging has close to many local attractions and is decorated in typical Taos style with Southwest art. Cozy and affordable, the Sun God is also pet-friendly! 1-800-821-2437

Taos New Mexico Spas and Eco-Resorts
Edelweiss Lodge and Spa
The Edelweiss is the peak of luxury, located on-slope at world famous Taos Ski Valley. The Edelweiss Lodge & Spa blends a sophisticated ambience, an array of amenities, and professional service for a first-class lodging. The Blonde Bear Tavern has a bar, lounge area, and dining room for Après Ski bites and drinks. Café Naranja is open daily through the winter for breakfast and lunch. 800-458-8754

El Monte Sagrado
Living Resort and Spa

El Monte Sagrado Living Resort and Spa™ offers a secluded sanctuary in harmony with the Earth. Exquisite accommodations inspired by Native American and global culture and a dramatic art collection graced by world-famous artists. 505.758.3502

Ojo Caliente Mineral Springs Resort and Spa
Deemed sacred by indigenous Native Americans of Northern New Mexico, Ojo Caliente Mineral Springs has been a gathering place and a source of healing for thousands of years. Stay in one of our luxury suites or charming cottages, the historic hotel or a private home. Enjoy casual dining in the Artesian Restaurant. Rejuvenate in our legendary waters. 800-222-9162

Taos Retreat is located at the Quail Ridge Inn Tennis Resort. It is 5 miles to Taos Plaza and 10 miles from Taos Ski Valley. Taos offers wonderful restaurants and fabulous art galleries of all types.

Secluded Mountain Vacation Rentals

Come retreat to our secluded 3000 acre refuge, with mountain vistas and meandering forest trails. We are a year round alpine playground, with infinite blue skies, and unforgettable sunsets. It is romantic, intimate and private, fused with relaxing and healing energy.
This is your perfect destination.

Taos Property Rentals
Taos Property Rentals provides luxury vacation lodging in the Taos Ski Valley - New Mexico's premier ski resort. We hand-pick high quality Taos vacation homes & condominiums for your Taos lodging needs; whether it be a Taos ski valley vacation rental for a week or two, a weekend getaway or a place to call home for the winter ski season or summer season. 877-557-9448

Taos Territorial
Elegantly restored as a luxury vacation rental in historic Taos, New Mexico, the Taos Territorial Compound is perfectly suited for New Mexico weddings, family ski vacations, and romantic weekends. 1-877-588-8267

Taos Vacation Rentals
Let Terry and Mike at Rosslynn Reservations set you up with a
vacation rental for your stay in Taos. 1-800-764-3366

Taos Hostels
The Abominable Snowmansion
Affordable hostel accommodations in Taos. Enjoy the company of international travelers and outdoor enthusiasts in our lodge or campground located in the heart of rural & charming old New Mexico! Privates-Tipis-Cabins-Dorms. Wireless and Wired Internet. Pool Table-Library-Games-Frisbee-PingPong!
505-776-8298.

Albuquerque New Mexico Hotels
Hotel Andaluz
Albuquerque's only full service boutique hotel. As a Four Diamond AAA hotel and Conde Nast Traveler, Readers' Choice among the top 10 hotels in the Southwest. 877-987-9090

New Mexico Lodging