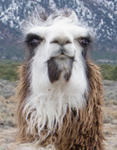 Llamas are cute and fuzzy and we all love them, but some folks seem to get llamas, and not want them anymore a few years later. One thing we learned early on, in our llama trekking/ wilderness guide outfit, was that there are alot of unwanted llamas out there.
Many people get these beautiful animals as an exotic pet or breeding investment. Sadly, the novelty wears off in a few years, or the llama market is not what was they expected. Often the animals are healthy, but just as often, they are not.
We now have 26 rescued llamas, at our New Mexico llama rescue ranch, many of which come from unwanted, neglected, and often abandoned or dire situations. Most of these animals are aleady adults by the time we get the call. They have usually never been haltered, handled, or groomed, and are in bad need of a shearing. Often they are feral and unsocialized, but are mostly just scared.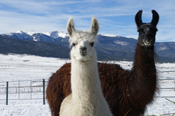 We receive calls and emails on a regular basis, from individuals and municipalities throughout the Southwest, asking us to pick up these llamas for different reasons. Some are just let loose on the countryside, others are just abandoned by their owners after just leaving town, and others from folks that love the animals, but can't take care of them anymore. At any given moment in time, there are usually several animals waiting for us to pick them up and give them a new home. We'll drive sometimes more than a day each way, to pick them up, and bring them back to our little New Mexico ranch.
We are not looking to breed or sell these animals. We just want to give them a good home.We have been doing this out of our love for llamas; and as a way to give back to them, for what they have given to our family, and to the thousands of people who have trekked with us, over the last 25 years.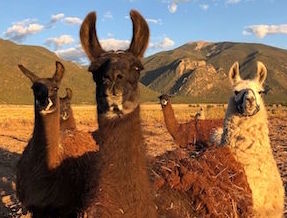 Your Donation will go directly to help care for, and manage our growing herd of unwanted and abandoned llamas. We have lots of ongoing ranch expenses like hay and feed for all these animals, plus vet care, fencing materials, water lines, troughs, etc... We also have a wish list of some bigger items like a steel building for tack, shelter, and hay storage.
We have recently been accepted as a Special Project of the Taos Community Foundation, who is our new Fiscal Sponsor, and Nonprofit Incubator. Tax Deductable Donations to our llama rescue efforts, can be made by clicking on the Donate Button below, or mailed to the Taos Community Foundation at the address below:

Taos Community Foundation
MEMO: Wild Earth Llama Rescue Fund
P.O. Box 1925
Taos, NM 87571