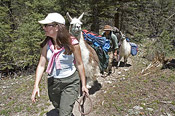 Llama trekking is a great way to experience the unspoiled wilderness, near Taos and Santa Fe New Mexico. Our signature llama trekking day hike offers a taste of the wilderness for those who would like to spend a very special day hiking and exploring in the majestic Sangre de Cristo Mountains or Rio Grande Gorge, with our experienced guides and wooly hiking companions.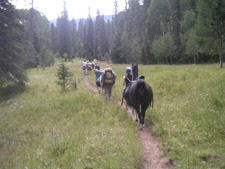 On the trail, our gentle, sure-footed llamas will carry your gear, while experienced naturalist guides share their knowledge of southern Rocky Mountain ecology: native flora and fauna; edible and medicinal plants; natural and regional history; and wilderness living skills.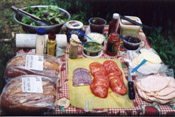 After an inspiring hike at your own pace, our guides will prepare a sumptuous feast for you in a pristine wilderness setting. Our llamas pack in all the fresh ingredients to make a magnificent gourmet lunch; complete with fresh fruits and garden salads, hearty sandwiches on fresh baked breads, natural sodas, delicious desserts to tempt your sweet tooth, and some of the most spectacular scenery in the Southwest. (All ages and fitness levels accommodated)

Day Hikes in the Rio Grande Gorge! (Spring/Fall)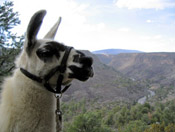 For early and late season day hikes, when high country conditions may not be suitable for mountain travel, we offer scenic day hikes into the Rio Grande Gorge in the recently designated Rio Grande del Norte National Monument, where desert and mountain eco-systems meet at the bottom of a volcanic rift in the earth 800 feet deep!