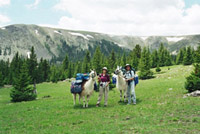 Wild Earth Llama Adventures offers custom designed llama treks and gourmet lunch day hikes for all ages and fitness levels. We lead fun and educational excursions in the seldom visited wilderness areas of the Sangre de Cristo Mountains and Rio Grande Gorge, near Taos and Santa Fe, New Mexico. Join us for a single day escape, or a multi-day wilderness adventure. Our friendly, knowledgeable guides and "llovable" llamas will help you create the wilderness experience of a lifetime.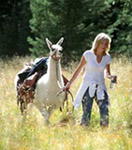 On the trail, our gentle and sure-footed llamas will carry your gear, leaving your body, mind, and spirit unburdened to enjoy the beauty and wonder of Northern New Mexico's Sangre de Cristo Mountains. The pace on our treks is non-competitive, with the emphasis on enjoying yourself in the backcountry. We specialize in seeking out trails that are less traveled, offering our guests a true wilderness experience.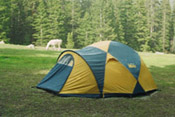 After an inspiring hike through some of America's remaining ancient forests, we will set up a base camp in the heart of the wilderness. From there, we set out on day hikes to discover crystal-clear lakes and climb mountain peaks. There will also be plenty of time to relax around camp and feel the peace that being in the wilderness can bring.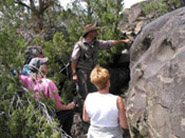 Our staff of experienced naturalist guides will add to the enjoyment of your wilderness adventure with their extensive knowledge of native plants and their uses, local wildlife, natural/regional history, forest ecology, and wilderness skills. Our guides are professionally trained and certified, and take every precaution to ensure a safe, comfortable, and enjoyable time for all. We feel very much at home in the mountains and desert of New Mexico, and hope that you will too.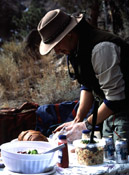 "Backcountry Gourmet" meals are served on all of our trips. Our llamas pack in a full backcountry kitchen; including plenty of fresh ingredients to prepare an exciting blend of traditional and innovative cuisine. Our menu features a variety of Italian, Asian, Middle Eastern, and regional favorites. Our head guide doubles as a chef in the off-season, creating new signature dishes for our trekking adventures. Please inform us of any dietary restrictions or preferences, and we will do our best to accommodate you.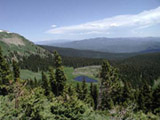 The Carson National Forest is lush with Englemann spruce, Douglas fir, Ponderosa pine, and aspen. The majestic Sangre de Cristo Mountains are home to healthy populations of mule deer, elk, and Rocky Mountain bighorn sheep. Flocks of grouse and wild turkey often make themselves visible to us. Magnificent birds of prey such as golden and bald eagles, great-horned owls, and red-tail hawks are often seen soaring above us in the clear New Mexico sky.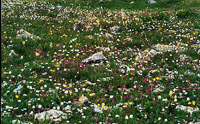 Rare to the desert environments of the Southwest, a true alpine tundra exists here above treeline. The tundra vegetation consists of many short stemmed plants that create a carpet of small, very colorful flowers. Indian Paintbrush, Mountain Blue Bells, and Colorado Columbine are just some of the wildflowers that can be seen throughout the southern Rocky Mountain high country.
Wild Earth Llama Adventures operates under permits issued by the Carson and Santa Fe National Forests, and the Taos and Albuquerque Field Offices of the BLM. Each wilderness adventure is custom designed, both prior to the trek and in the field, to meet the participants' needs and fitness levels. Based on our evaluation of the group's fitness level and interests, we will work with you to choose the most appropriate location for your llama trekking wilderness adventure.

Wheeler Peak Wilderness Area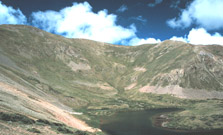 Join us for an opportunity to hike the summit of Wheeler Peak (13,161'), the highest point in New Mexico. Several other peaks above 12,000' tower over the Taos Valley. Adajacent to world famous Taos Ski Valley, the Wheeler Peak Wilderness contains several alpine lakes, expansive open park country, and colorful wildflower meadows.
(Trips in this area limited due to heavy recreational use)

Columbine/Hondo Wilderness Study Area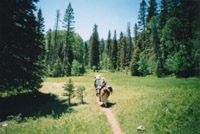 North of Taos Ski Valley, the Columbine/Hondo Wilderness is a wild mountain basin boasting one of the healthiest mountain watersheds in the region. The trail system is diverse enough to offer a spectacular hiking experience for any fitness level. Gold Hill and Lobo Peak dominate the ridgeline at over 12,000'.

Latir Peak Wilderness Area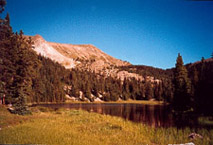 Just South of the Colorado border, this seldom visited wilderness offer spectacular scenery and solitude to soothe your soul. Several pristine alpine lakes are nestled in lush basins above 11,000'. Four of the tallest peaks in New Mexico provide endless panoramic views of northern New Mexico and southern Colorado. We recently assisted the NM Game and Fish Dept. in the release of a viable herd of Rocky Mountain bighorn sheep into this hidden jewel of the the Southern Rockies.

The Valle Vidal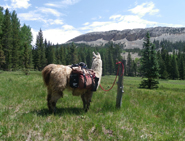 Donated in 1982 by Pennzoil to the People of the United States for its outstanding wildlife and scenic values, this 100,000-acre paradise sits between Ted Turner's Vermejo Park Ranch and Philmont Scout Reservation, in the heart of the Sangre de Cristos. It's lush forests and fragile alpine meadows are home to a component of the largest herd of elk in the state. Often called the "Yellowstone of New Mexico", this national treasure was protected from "fracking" in 2005.

Rio Grande del Norte National Monument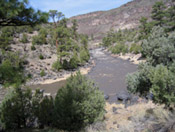 One of northern New Mexico's best kept secrets, the Rio Grande Gorge is an 800' deep volcanic rift, in the middle of the southern end of the San Luis Valley. Actually a cross section of one of the largest lava flows in the world, caused by an eruptive period 2 to 4 million years ago, and then carved out over the last 600,000 years by the mighty Rio Grande.

This area is a unique blend of desert and mountain ecologies, with freshwater springs that cascade into the wild river at the bottom of the canyon. There are also several Ancient Puebloan/Anasazi culture petroglyph sites to take us back in time to the early inhabitants of the region.