Family Adventures in New Mexico's Pristine Wilderness!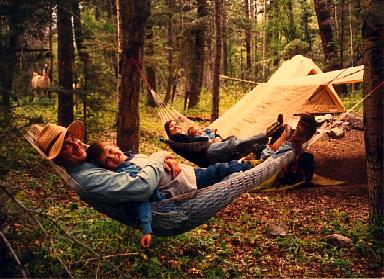 Wild Earth Llama Adventures is pleased to offer special Family Wilderness Adventures for families with children. Being parents ourselves, we understand how to cater to the special needs of families in the backcountry. We support you in your desire to create a safe and enjoyable wilderness adventure for your family.

Each family adventure is custom designed both prior to the trek and in the field. We want young people's early hiking and camping experiences to be fun and educational, not traumatic. We will even work with you to plan a menu that your whole family will love!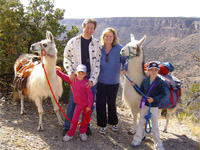 Kids, camping, and llamas are a winning combination. It's great to see how young people bond with the llamas, and develop a sense of responsibility and respect for the animals. Kids and parents will have opportunities to learn about native plants and local wildlife, and are given an introduction to forest ecology, low-impact camping, and basic wilderness skills.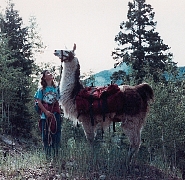 On multi-day treks, we may choose to summit peaks, explore ancient forests, or discover hidden alpine lakes and meadows.We play educational nature games in the forests and meadows. We follow animal trails and learn about tracking. In the evenings, we enjoy sitting around the campfire, telling stories, and having fun.
Check out our "Take a Llama to Lunch!" page for information on our signature day hikes in the Sangre de Cristo Mountains and Rio Grande Gorge.
(All ages and fitness levels accommodated)
Even though llamas are sweet, gentle creatures, and are one of the oldest domesticated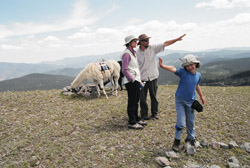 animals on the planet, they are still very much an instinctual prey animal (much like a deer or elk). Because of this fact, and because they have not been traditionally used for riding in South America, it makes them very nervous to have any weight of a human (predator) on their back. There may be some companies out there who advertise that kids can ride the llamas, but we truly believe that it's against their nature and that they don't like it. Out of the utmost respect for these wonderful animals and their traditional use, our llamas are strictly packers.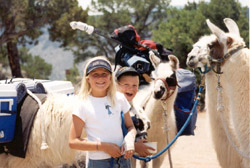 Our family adventures are custom designed to meet the fitness needs of the participants, so if you have a young child, the location of the trip and distance traveled will be suitable for that child. We feel it is much more empowering for young people to travel in the wilderness on their terms, at their own pace. Because kids can lead and bond with their own llama on the trail, they are very focused on the experience. We just don't hear the usual complaints that all of us parents are familiar with. You'll be amazed at what great little hikers you have in your family.
Riding on the back of an animal is a very different type of experience, and we want to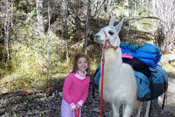 offer a more intimate, "hands-on" journey into nature, as well as a basic introduction to hiking and camping in the mountains. Young children can alternate between being carried in a "kiddie- pack" (rentals available), and walking as much as they are comfortable with. Our own children have been hiking and camping in the backcountry with us and our llamas since infancy. We are well versed at working with parents to create fun, educational wilderness experiences for families with children. Give us a call and we can discuss the particular needs of your family.